Your Shopping Cart
Welcome

Guest

Your Cart Is Empty
Shop By Category
PROGRAMING TOOLS

CLONING TOOLS

Transponder Key

Key Case Rubber

Locksmith Tools

KEYDIY

REMOTE MASTER

Transponder Chip

LOCK

CUTTING MACHINE

OTHER PRODUCT

security cameras
VW 3 button remote 1 JO 959 753 AH 434Mhz
Description:
VW 3 button remote 1 JO 959 753 AH 434Mhz

it is only remote control part , not with key blade head part .
VW original part numner : 1J0 959 753 AH 434mhz



before you make order ,please confirm your remote control part number is same .
where can I find the original part number of the vw remote control ?
please look this picture .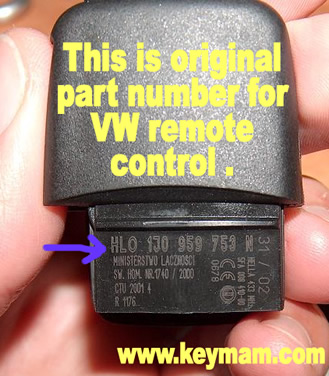 Other Products